An Era of Terror is being ushered into America's Most Beautiful Theme Park. Park-goers can expect to see past characters and new surprises as the park celebrates its 20th anniversary of Howl-O-Scream. Yes, that's right, 20 years. XX is 20 in the Roman sense. I had to look that one up.
Quite a few characters have come and gone over the past 20 years. It's fun to see some of them back to their haunting selves. And, yes, Jack's Back! Everybody's favorite pumpkin plays the host of the park's newest Escape Room experience.
Media Day
I recently attended the park's Media Day event where the park shared some of the new features of Howl-O-Scream 2018. We were even given treats (delicious ones at that) and an unexpected (but incredibly fun) trick. The most interesting thing was learning about a really cool and interactive aspect to this year's event. Read on for more on that.
Howl-O-Scream 2018 Experiences and Interactive Fun
The Control Lab at Inoculation Station (located at Castle O'Sullivan in Ireland) lets guests take part in the scares. A series of large screens show a scene from one of the haunted mazes. Guests buy tokens, choose which one they want, and then wait for somebody to walk past it. Then, they press a button to scare that unsuspecting maze-goer. For example, one of the houses has a giant spider that will drop at the touch of a button.
I had visited Howl-O-Scream the week before Media Day and did not know about this feature. Check out this shot of one of my people getting pranked by a guest. We thought this was a totally random thing (working by motion or something). Turns out it can be done with the press of a button at the Control Lab.
See the green buttons on the countertop below? They control the scares shwon on the large screens above. There are five located around the park. Fiber optics make them super responsive.
This is what happens on this particular one. It's located at the Festa Italia bridge. It looks like an ordinary park map until somebody walks up – and somebody at the Control Bar pushes the button.
In addition to all of the scare zones and haunted mazes, there are freaky things happening on rides. You just might end up sitting next to a creepy creature. Be prepared.
Find out more about all of these fun experiences by visiting the park website.
2018 Howl-O-Scream Haunted Mazes
The Vault: XX (New)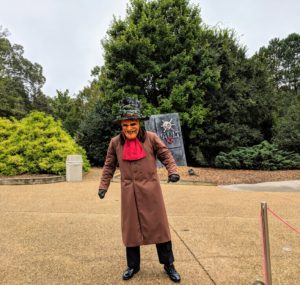 The Story
The Vault XX lets guests take a walk down memory lane with favorite creatures from past Howl-O-Scream events. Classic characters include the Executioner from Dark Tower, Mummy from Curse of Pompeii, Pirate Captain Ghost from Sea Dog Cemetery, the Lady of the Gardens from the Dark Side of the Gardens as well as a horde of others. They've all been waiting a lifetime to frighten you again.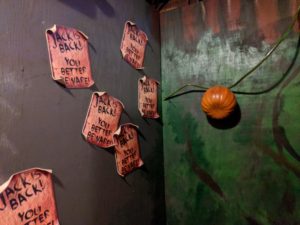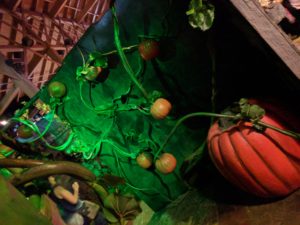 My Take
During the Howl-O-Scream Media Day event, I had the very cool chance to walk through this house with the lights on. I've always wanted to do that. I love checking out the decorations in haunted attractions. But, for fear of being startled by lurking creatures, I can't always do that. The extreme darkness of some houses is another factor.
As you enter The Vault XX, you'll see names of all of the past mazes along the wall. They're in "vault" form, of course. I enjoyed seeing past characters, some of which I wasn't familiar with since I've only been attending Howl-O-Scream for the past six years.
Demented Dimensions (New)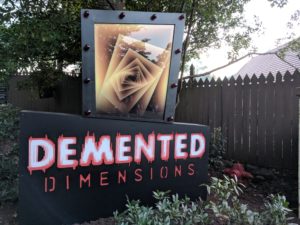 The Story
As the story goes, Sterling Manor was built upon a vortex – a portal of sorts – to another dimension. This massive mansion is home to much more than meets the eye as what you think you see might not be what's actually there. I got a sense of the Upside Down of "Stranger Things" fame inside this house. Aliens, monsters and more inhabit this otherworldly realm.
As you enter, you're greeted by a library scene. I adore the page-covered walls. In the dark, though, maybe an entirely different story.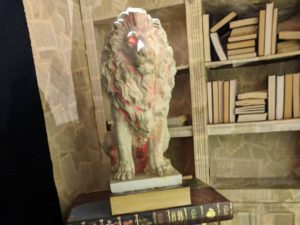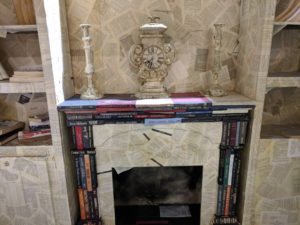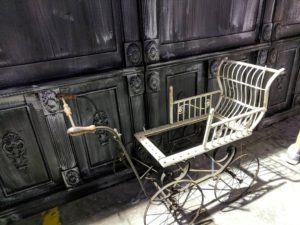 My Take
I was also able to take a Lights On tour of this house during the Media Day event. Halfway through the tour, the lights unexplainably went off and creepy music and screams came on. Good trick, Busch Gardens, good trick.
My favorite part of Demented Dimensions is the steampunk-inspired Alice and the Tea Party scene. Be sure to check out the room with the cake (pictured above). On one side, it's your typical wedding day dessert. On the other, it's all about the guts and gore. I would have to say that this is my favorite maze so far. I haven't been through Dystopia yet.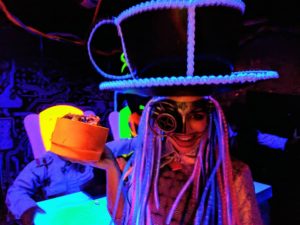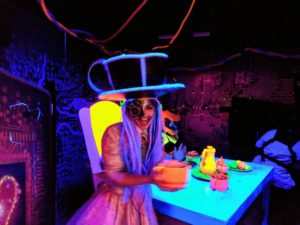 Dystopia (New)
The Story
It's a futuristic post-apocalyptic world. A new order has risen and you have two choices – join or be forgotten. I have not been through this house yet, but I do enjoy a good tale of dystopian oppression every so often. It's located in Italy at Escape From Pompeii (the previous site of Deadline).
Cornered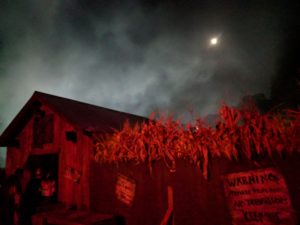 Cornered is your typical corn maze with a few twists. Always with the twists. Expect corn husk dolls, missing townspeople and cleverly costumed scare actors.
Lumberhack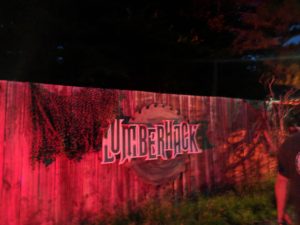 Lumberhack is an outdoor maze that takes guests through a logging camp gone very very wrong. Yes, you can expect chainsaws. I hadn't been through this one in a few years. I found it quite well done. A dimly lit woodsy area is always a good setting for scream-inducing scares. Again, though, I felt there needed to be more scare actors.
Circo Sinistro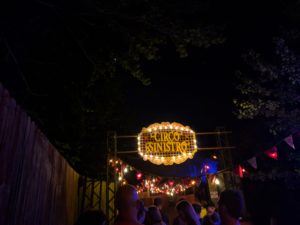 Circo Sinistro is another of my favorites. I enjoy the "show" aspect of the Ringmaster gathering everybody inside the Big Top before sending them off into the maze.
Frostbite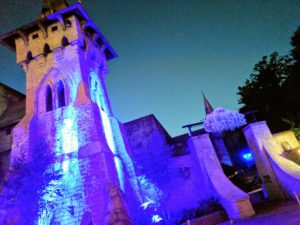 Frostbite was new in 2017 and returns for this season. I really like the concept of this maze with the dragons, ice and frostbitten landscape. Here's a link to my write-up from last year. I did feel that perhaps there needed to be more scare actors in this house (at the time that I went through it, anyway). It's located in the Oktoberfest village inside of NewKastle – the castle formerly known as DarKastle.
 2018 Howl-O-Scream Terror-Tories
Garden of the Souls (New) – Italy
Funeral Gardens is the setting for Garden of the Souls™. While guests are visiting the graves of the deceased, they just might discover that this garden has a dark secret. The dead roam free, and they're all ready to show park guests what waits in the afterlife. This Terror-tory replaces the pirate theme of years past.
Fool's Court (New) – France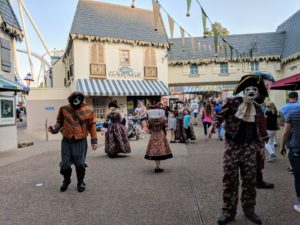 While I do miss the chainsaw-wielding demons of Demon Street, I must say that the jesters are quite nice. The costumes and makeup are amazing. For those of you familiar with the Demon DJ … there is still a Party Zone located in this area. It's just not the giant skull set-up as in the past.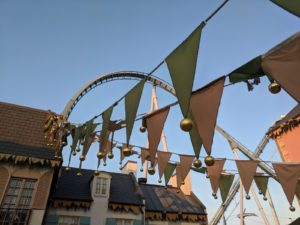 Axe Alley (New France)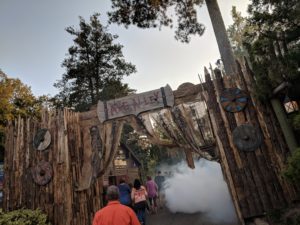 Here's a link to last year's write-up on Axe Alley, as it's pretty much the same.
Ripper Row (England)
Ripper Row is my favorite Terror-Tory. It's so elaborately decorated and perfectly themed. What's not to love about Jack the Ripper, headless ladies plague warnings?
Sideshow Square (Festa Italia)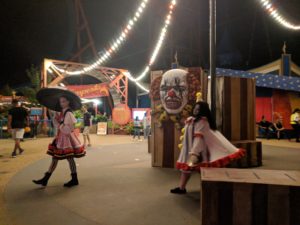 Sideshow Square is one of my favorites after Ripper Row. It's all about the Big Top and the crazed characters that inhabit it.
Vampire Point (Germany)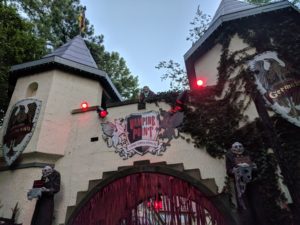 The Germany village is home to vampires and lost souls of Vampire Point. Watch out. They're lurking around every corner.
2018 Howl-O-Scream Escape Rooms
Escape Room:  Jack's Nightmare Room (New)
Jack, the original Busch Gardens trickster, is back for this anniversary event. He's the host of the all-new No Escape: Jack's Nightmare Room. He's had decades of time to sit in the dark and come up with new ways to surprise and startle fans. Explore the terrors that keep Jack, and probably you, up at night. Escape Rooms are located in the Germany section of the park.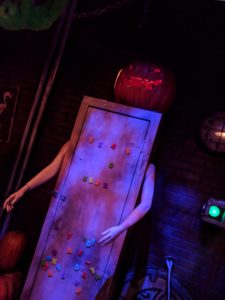 Escape Room: Case of the Haunted Hotel
This is a returning Busch Gardens Escape Room, but there are all new clues to stump guests.
Howl-O-Scream 2018
7 Haunted Houses (3 are new)
5 Bars (3 are new)
6 Terror-tories (2 are new)
2 Escape Room Experiences (1 is new)
2 party zones – Festa Italia and Italy
Howl-O-Scream 2018 Details
Howl-O-Scream runs on select dates now through October 28, 2018. Operating hours may vary. Please visit howloscream.com/va for schedules and additional information.
PLEASE NOTE: Please consider your child's fright factor when deciding whether to bring them to Howl-O-Scream. It is not intended for young children. The park becomes seriously scary after 6:00 p.m. Before that, it's perfectly fine. You can ride rides, watch shows and enjoy the fall décor with no problem. Be sure to check out the Count's Spooktacular Halloween event with the little ones.
Disclosure: I received entrance to Howl-O-Scream as part of Busch Gardens' Media Day event and the Ambassador Blogger program. All opinions expressed herein are my own.