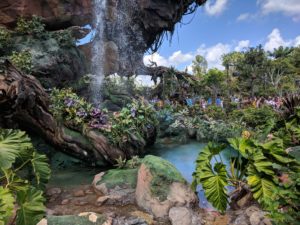 While Pandora – World of Avatar opened more than a year ago, I've only recently had the chance to experience the out-of-this-world attraction at Disney's Animal Kingdom. Knowing Disney, I expected it to be spectacular as far as details and theming. But I really had no concept of just how great the main ride – Flight of Passage – would really be.
The creative collaboration of Disney Imagineer Joe Rhode and "Avatar's" James Cameron and Jon Landau has resulted in a magical realm of lush greenery, colorful plant-life and jaw-dropping adventure.  Immersive, imaginative and innovative are just a few of the I-words that describe Flight of Passage.
I've been randomly checking the Touring Plans app over the past year to see wait times (because that's just the kind of thing I do). They are consistently at 120+ minutes. My people and I could not understand how that could still be going on a year later. The first few months, yes. But a year? Well, we get it now. Flight of Passage is nothing short of incredible (and another I-word, in case you were counting).
We arrived at the park and went straight to Pandora … after taking a photo in front of the Tree of Life, of course. Who doesn't do that? The line was stretched halfway to Africa (the Disney version of Africa) and looking at 2.5 hours. Yes, hours. We decided to head to the Na'vi River Journey.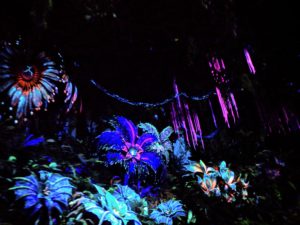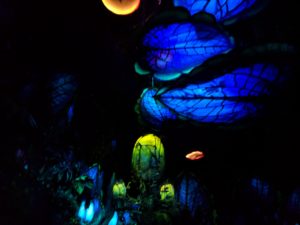 That queue took about 90 minutes. My thoughts on the Na'vi River Journey: It was beautiful and surreal and filled with magic. A boat takes riders on a peaceful sail down a bioluminescent river filled with sparkling creatures and a beautiful soundtrack. My favorite part was the floating "jellyfish." We loved the animatronic Na'vi Shaman of Song at the end. As beautiful as it was, I felt that it was probably worth a 60-minute wait, rather than 90 minutes.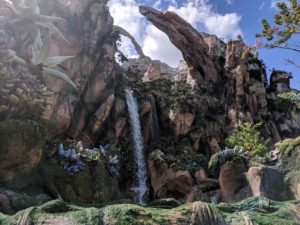 Flight of Passage
We left the Na'vi River with plans to get lunch. As we passed Flight of Passage, the wait time was down to 90 minutes. Who needs food?! We got right in line.
The Hallelujah Mountains provide the entrance to the ride. The queue (shaded, by the way) takes you through a cave with ancient-inspired drawings and etchings. You eventually come to the research station where a blue Na'vi floats in a tube.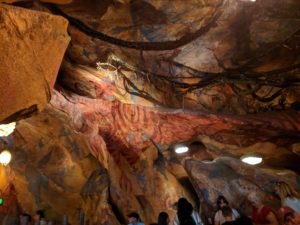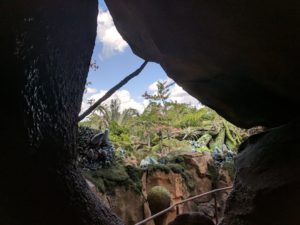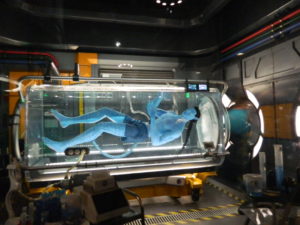 Flight of Passage simulates Jake Sully's ride on the winged banshee, or ikran in the language of the Na'vi. You're matched to an avatar, get linked to a counterpart and are given 3-D glasses. Next, you enter a 16-person chamber where you board your "banshee." The banshee flight simulators are actually quite simple in appearance. They're ridden like a bike, or maybe more like a motorcycle.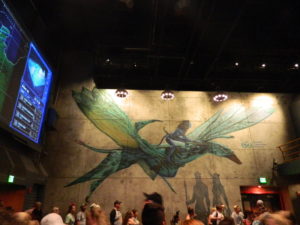 You sit on the simulator in a forward leaning position. A bar rests against your back and calves to keep you steady and in place. I really felt like that was more for your own feeling of security – as well as to keep you in that forward bike-riding position – rather than a safety factor, as the ride vehicle really doesn't move all that much (as in, no lurching forward and back and other such stuff). You then take off on the most realistic flying simulation I've ever experienced.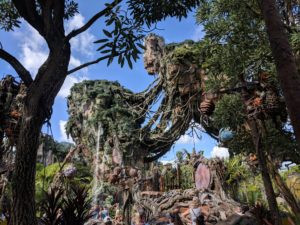 Up until now, Soarin' was my main point of reference when it came to what flying would feel like. Not anymore. Flight of Passage has taken it up more notches than I can even count. I felt like I was soaring up and swooping down and surfing through the barrel of a wave.
It was very much like riding Soarin' for the first time (in terms of pure magic), and I've even heard it described as "Soarin' on steroids." Accurate, yes. But it's so much more. I loved the thrill of discovering the sights, sounds and interactions of this experience, so I won't be a spoiler and go into a lot of the details. I do have to mention that you can actually feel your banshee "breathing." That was one of my favorite parts, and a real testament to the immersive-ness of the whole experience. I could have stayed on this four-minute ride all day.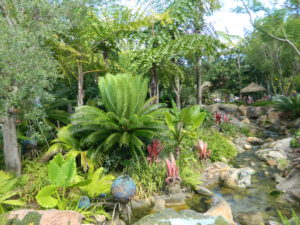 The Valley of Mo'ara
The 12-acre Valley of Mo'ara took six years to create. Not everything in the landscape is featured in the movie. The attention to detail is impressive and jaw-dropping – waterfalls, a jungle atmosphere, alien-like plants, lush greenery, streams of flowing water, colorful plants and floating mountains (Okay, they're not really floating. But they are as close to it as you can get under the constraints of that pesky thing we call gravity.). Even the food is very Na'vi-like. I recommend Satu'li Canteen.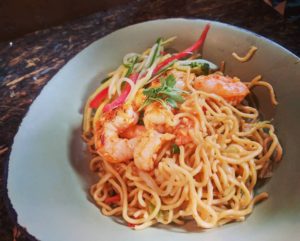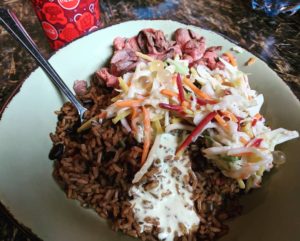 I would love to come back and just wander through the area and alien-inspired botanical gardens (especially at night). I can imagine the nighttime setting with lights and bioluminescence emanating all over. There's also the River of Lights show, which operates on select nights after dark.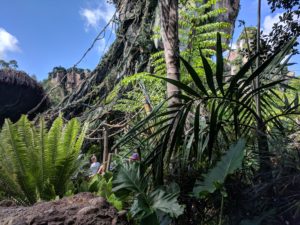 If you go:
Grab a Fast Pass if you can. Definitely do Early Magic Hours if you're staying in a Disney resort.
If you can't get a Fast Pass, be prepared for long lines by bringing an iPad or some other device to keep the kids (and yourself) occupied. I saw lots of people playing Heads Up!
There is a 44-inch height restriction.
There is a rider swap option.
I've been told that the lines are considerably shorter later in the evening.
I'll close with a collection of photos of the many details of Pandora – World of Avatar. Nature and conservation are at the heart of Pandora. And it's wildly evident in the features and details.